Nicole Kirchhoff clearly stands out as a leader.
It was only natural for her to start her own company, Live Advantage Bait LLC, in 2013 so that she could make her knowledge and expertise in hatchery technologies available to her Florida aquaculture community.
"Nicole knew that hatchery technology was her strength," said Kevan L. Main, nominator, and colleague from Mote Marine Laboratory & Aquarium. "Dr. Kirchhoff's innovations include the scientific advances… One of these projects is focusing on commercializing a hormone implant to facilitate maturation and spawning in fish, while the other is developing a rapid diagnostic test for marine velvet disease (Amyloodinium occelatum) in aquaculture systems."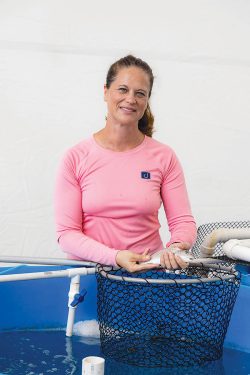 She has published six scientific papers in aquaculture journals on the impact and mitigation of diseases in southern bluefin tuna. She has several more papers on this topic either in review or the final stages of preparation.
Kirchhoff, 39, has been recognized for her contributions many times during her 17-year career. She is recipient of multiple Small Business Innovative Research awards. She was also awarded the "Best New Start-up Business in South Florida at Crowdfunding and Cocktails" by the Cox Media Group in the same year she launched her own company in Jupiter, Flo.
Kirchhooff is dedicated to the larder aquaculture community in Florida. In fact, she is well-known as the administrator of the Florida Aquaculture Community Facebook page where she facilitates communication about aquaculture issues, job opportunities, equipment and seafood product availabilities and any other hot topics. The Facebook page has about 1,100 online participants.
During the pandemic, she conducted on-farm research trials at her own facility to assist academic colleagues that were unable to carry out trials on campus. This has helped her sustain close ties to customer channels with universities and research institutions in the region.
As a mother of two young children, she juggles many activities, including pursuing research grants, her fish production business, participating in two professional boards (American Water Security Project and the Florida Farm Bureau), while also mentoring graduate students.
"Farmers live and breathe aquaculture every day, they are innovators, experts, and can teach you more than any book or many universities can possibly offer. Even if you have to work for free to get your foot in the door, it is worth it," said Kirchhoff.
---
Print this page