May 1, 2020 By Hatchery International staff
Adsoprtech's new oxygen VPSA (vacuum pressure swing adsorption) model can support recirculating aquaculture systems with fish production capacity of up to 23,000 tons per year.
EcoGenX is the newest edition to the company's oxygen VPSA suite. It is a power efficient source of oxygen at 0.26 kw/kg oxygen with built-in redundancies for maximizing oxygen availability.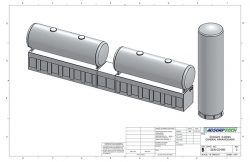 It has turndown capability greater than 70 percent, saving significant power when oxygen demand lessens, and a single button immediate shutdown or restart that can be controlled remotely and locally.
"The unique features of highest oxygen power efficiency and built-in redundancy not only reduce costs and risks but maximize oxygen reliability – critical to RAS farm fish survival and ROI," said Adsorptech president and CEO Jim Flaherty. "To facilitate the economic success of future RAS farms, all of us RAS industry equipment suppliers must align our products to achieve the most economic and reliable RAS business case."
Adsorptech created its first RAS-serving EcoGen as commissioned by a Middle East 2,200 ton per year fish farm in 2016. EcoGen X is its latest, patent-pending system suitable for outdoor installation. All equipment is inside a single weather/sound enclosure.
www.adsorptech.com
---
Print this page