Features
The need for an effective breeding program in Atlantic halibut industry
October 18, 2023 By Valentina Krivenjeva Sinani, INN University & Cryogenetics AS
Atlantic halibut (Hippoglossus hippoglossus) is the largest flatfish of the Pleuronectidae family and is distributed throughout the northern part of the North Atlantic Ocean and in parts of the Arctic Ocean. Atlantic halibut is traditionally a highly valued food, but due to overfishing and subsequent stock collapses it has become scarce. 
The production of Atlantic halibut has shown a positive trend in recent years but it still remains at a low level compared to other major aquaculture species such as the Atlantic salmon (Salmo salar). The main reason for this is the lack of breeding programs available for halibut. 
In the case of the Atlantic salmon, breeding programs have increased production efficiency substantially. Selective breeding programs resulted in genetically improved salmon which grow twice as fast as wild Atlantic salmon and require 25 per cent less feed. Thus, there is a need to evaluate if it is possible to establish a breeding program for Atlantic halibut as well. 
Therefore, Cryogenetics company headquartered in Hamar, Norway, together with Inland Norway University of Applied Sciences has initiated a project (industrial PhD) funded by the Norwegian Research Council that will elucidate and assess the critical factors for establishing an effective breeding program for Atlantic halibut. 
Systematic selective breeding
Until now, there is no systematic selective breeding program in operation for Atlantic halibut. The research was more focused on other production-limiting factors such as weaning, diet and pigmentation problems, than the establishment of halibut breeding programs.  
There were attempts to start a breeding program, which proved unsuccessful. 
In 1992/1993, the Institute of Marine Research Austevoll research station outside Bergen used Atlantic halibut for the first time for breeding purposes. However, in order to increase the genetic diversity, the majority of halibut production is still based upon wild-captured individuals being used as broodstock. 
Between 1997-1998, in an experimental breeding project funded by the Research Council of Norway, 22 family groups were produced. In these families, traits such as survival rate and growth varied significantly. The study suggests adding genetic variation for the significantly different traits (1).  
There was also an attempt to establish a low-cost breeding program in Scotland, but this was unsuccessful as well due to significant variation in the survival of different family groups, with a consequently low effective population size and increased inbreeding rate (2). 
Moreover, a study conducted by Reid et al. (2005) performed microsatellite analysis using 18 microsatellite markers (3). The study included an analysis of 160 halibut fish from four locations in the northwest Atlantic (Bay of Fundy, Scotian Shelf, Gulf of St. Lawrence and Iceland) and found an absence of halibut population structure. Therefore, the halibut industry has a huge potential for exploitation in a commercial breeding program. 
Better together
Based on previous studies (above-mentioned) related to the estimation of genetic variation in the broodstock population of Atlantic halibut, a low genetic diversity is expected in the Norwegian companies participating in the project. Therefore, a collaboration between Norwegian halibut producers to share the genetic material of the Atlantic halibut is very important in order to develop an effective and sustainable breeding program. 
Effective breeding programs
Effective breeding programs aim to maintain genetic diversity to avoid inbreeding. Establishing a breeding program requires a founder population with sufficient genetic diversity. Therefore, the first objective of the project is to determine the genetic diversity in the broodstock populations of different Norwegian halibut companies.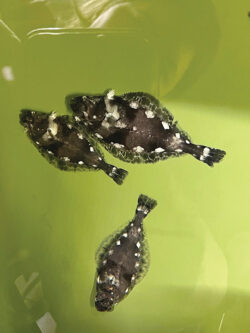 Additionally, a breeding goal and plan on how to register and select desirable production traits is required. The breeding strategy and selection of traits will aim to mitigate persisting challenges in the production cycle. 
A central problem in modern, intensive halibut production is decreased growth and poor fillet quality as a result of precocious maturation, particularly in male fish (male halibut mature earlier, ultimately attaining smaller size than females). Furthermore, halibut fry production in Norway in the last 10 years has been dominated by a disease associated with high fry mortality, which is caused by infection with Atlantic halibut reovirus. 
Evaluating the two commonly employed breeding program strategies will help in choosing the right one for halibut: 
Family-based breeding program is a traditional breeding program that maintains genetic diversity through independent family lines. This depends on the magnitude of family skews and the impact of sampling to detect, evaluate, and select underrepresented families.

   

Tracing and identifying families using genetic markers, including microsatellites and single nucleotide polymorphism (SNP) panels has shown to be an effective alternative.

 
These genetic approaches have proven reliable to recover important genealogical information from communally reared families. Genetic markers have been used for parental assignment and family distributions in several species that have been communally reared such as the pearl oyster (Pinctada maxima), barramundi (Lates calcarifer), Kuruma shrimp (Marsupenaeus japonicus), white leg shrimp (Litopenaeus vannamei), and black tiger shrimp (Penaeus monodon). 
In most aquaculture species, it is impractical to track families from independent spawnings through physical tagging methods, due to their small body size and high fecundity. Therefore, the practical and economic consequences of choosing the right breeding strategy need to be considered. 
A sophisticated genetic tool
As mentioned above, the use of genetic markers has shown to be an effective approach to estimating genetic variation.  
A single nucleotide polymorphism (SNP) is the most frequent type of variation in the genome and represents a variation at a single site in DNA. SNP-array is a high throughput genotyping tool (or a type of DNA microarray) which is used to detect polymorphisms within a population. Such a tool containing the genetic information for 60,000-70,000 SNPs is under development. 
The use of SNP-array in halibut breeding will help to clearly determine the genetic diversity in the broodstock population. Lastly, this powerful tool will allow us to perform genome-wide association studies. 
References
Olesen I, Barr Y., Holmefj ord I., Refstie T., Pante Ma. J.R. and Lein I. (2001). Avlsforsing på kveite. Sluttrapport. AKVAFORSK AS. Fagrapport 37/01. 16 s.Olesen, I, Y. Barr, I. Holmefj ord, T. Refstie og I. Lein. Avlsforsking på kveite. 2002. Norsk Fiskeoppdrett, 27: 42.

 

Frank-Lawale A.S., Taggart J.B., McAndrew B.J. and Woolliams J.A. (2005). The use of microsatellite markers for pedigree analysis in the Atlantic halibut, Hippoglossus hippoglossus: the first step towards a sustainable breeding programme. Aquaculture, 247: 13.

 

Reid, D.P., Pongsomboon, S., Jackson, T., McGowan, C., Murphy, C., Martin-Robichaud, D. and Reith, M. (2005), Microsatellite analysis indicates an absence of population structure among Hippoglossus hippoglossus in the north-west Atlantic. Journal of Fish Biology, 67: 570-576.

 
---
Valentina Krivenjeva Sinani is in the third year of the industrial PhD, a collaboration project between Inland Norway University of Applied Sciences, Cryogenetics AS, halibut producers, and financed by Research Council of Norway. Her background is in bioinformatics, molecular biology, and quantitative genetics. Her commitment is to elucidate and assess critical factors for the establishment of an efficient breeding program for Atlantic halibut. 
---
Print this page