July 10, 2020 By Hatchery International staff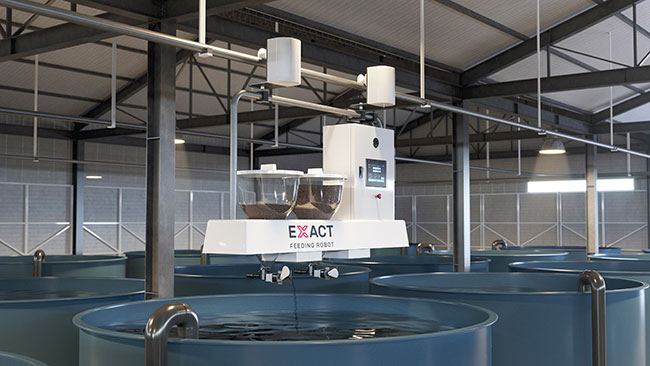 Vard Aquaculture's new Exact Series enables farms to ensure that the broodstock gets the right quantity of feed at the right time.
The fully automatic Exact Feeding Robot is an autonomous device that feeds an entire facility. The robot calculates feed quantities based on information about the biomass registered in its control system. It then operates on a track system that can be customized to work with the facility's tank setup.
"With RFID technology along the track system, the robot's positioning and movements are always optimized. It will automatically know whether there is still work to be done, if it needs to adjust its speed or take a break," said Svein Arve Tronsgård, sales and marketing manager of Vard Aqua Sunndal. "This system is a plug-and-play type solution that is easy to install."
The feeding robot was developed with decades of rigourous testing and is made to be a labour-saving solution for the fish farmer as well as reduce stress for the fish, the company said. The feeding robot comes with up to four feed hoppers and can be set up to refill automatically between each feeding round. The robot is battery-operated and charges automatically.
Also part of the Exact Series is the Exact Mini Feeder that comes in one-liter and three-liter sizes. The mini feeder is developed to give the fish farmer complete control of dosage which can be well-suited for things like startup feeding of lumpfish.
---
Print this page