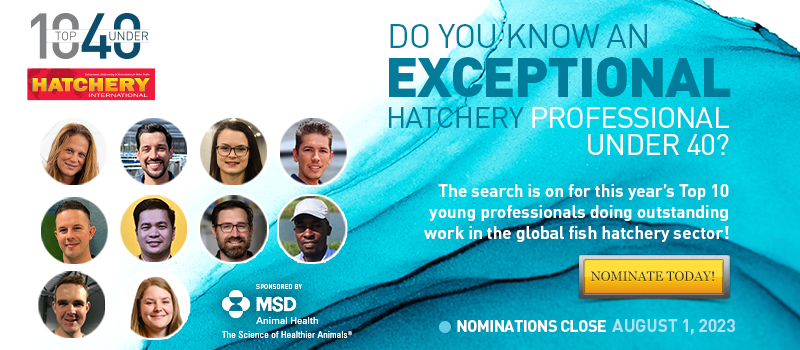 The world of seafood is as diverse as the ocean and this year's winners paint a very colourful picture of the skills, techniques, and life experiences that make up the industry. One thing that unites them all is their love and dedication to their work in the natural world. Once again, our Top 10 Under 40 program celebrates the best and the brightest professionals in our global fish and seafood hatchery community.
---
Aleksander Haugen
Ballan wrasse can be an intimidating species to grow, but for Aleksander Haugen, who has been around fish farms since he could walk, he embraces the challenge. Haugen, 27, is the head of the larvae department Mowi's Øygarden ballan wrasse facility in Norway.
---
Carlos Lopez
Growing up in Miami and in the Florida Keys, Carlos Lopez, 31, always knew he would be working out on the water. What he didn't know is that his passion would bring him to so many places around the world.
---
Daniel Mohring
Daniel Mohring believes the possibilities are endless in aquaculture, for those who pursue it ardently. "There are so many opportunity pathways available to those who are willing to work diligently for them," he said.
---
Francis Quijano
Francis Quijano is an architect with aquafarm roots. Although he is is not a traditional hatchery fish farmer like many of our Top 10 candidates, his contributions to further Philippine fisheries and aquaculture infrastructure speaks for itself.
---
Nicole Bell
At the height of the COVID-19 pandemic, Nicole Bell, 27, decided to live on-site at the AquaBounty Canada hatchery in Rollo Bay, PEI. She often worked alone or with minimal contact with other team members to ensure that everyone remained safe and socially-distanced.
---
Nicole Kirchhoff
Nicole Kirchhoff clearly stands out as a leader. It was only natural for her to start her own company, Live Advantage Bait, in 2013 so that she could make her knowledge and expertise in hatchery technologies available to her Florida aquaculture community.
---

Orishaba Benjamin
Orishaba Benjamin knows well that hard work can transform any hatchery. The 28-year-old started his career in 2017, working on a small catfish farm in central Uganda while also studying Fisheries and Aquaculture at Makerere Univeristy.
---
Patrick Hainfellner
Patrick Hainfellner made a name for himself early in his career. In his first job in aquaculture, he quickly rose through the ranks to become general manager at PreVet sanidade aquícola in Jaboticabal e Região, Brazil.
---
Rachael Wilbourn
Rachael Wilbourn, 35, never really considered a career in aquaculture. She described it as sheer luck. When her post-doctoral contract at the University of Edinburgh was coming to an end, she found a position as a laboratory manager at Xelect in St. Andrews, Scotland.
---
Travis May
Travis May remembers his early days as an Environmental Science intern at the Freshwater Institute fondly. "I knew nothing about land-based aquaculture at the time but was willing work hard and wasn't bothered if I showed up to class dripping wet or covered in fish slime," he said.