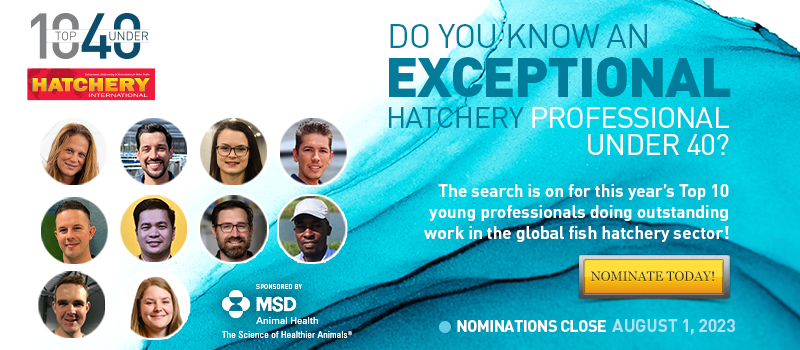 After evaluating an outstanding line-up of nominees from the across the world, the editorial team at Hatchery International is pleased to announce the winners of this year's Top 10 Under 40 (in alphabetical order by first name).
Brittany Peachey
The ability to use technology innovations to pursue a more sustainable and responsible future is what pushed Brittany Peachey to a career in aquaculture, particularly in the application of recirculating aquaculture systems (RAS) in seafood production. Read more. 
Curtis Crouse
Curtis Crouse could still remember that fishing trip with his dad when he caught the fish that would inspire him to pursue a career in animal science. It was a tiny bluegill small enough to fit his Slurpee cup that he was able to bring it home with the intent of keeping it as a pet. It eventually ended up in his uncle's pond, where he watched his friend grow bigger. Read more.
Dan Paynter
Growing up on an island surrounded by the ocean and where fishing is a part of his family's DNA, Dan Paynter developed a passion for marine life. After graduating high school, he left his home province of Prince Edward Island (PEI), Canada, to earn a degree in fish biology at the University of New Brunswick. He then pursued an internship at the University College of Dublin in Ireland, where he studied juvenile fish populations in the Irish and Celtic Seas. Read more. 
Gareth Murphy
Thirty-year-old Gareth Murphy's career choice came down to the lesser of two evils: the smell of salmon feed versus the grit of mussel lines. Now the hatchery manager at Irish Salmon Smolts in Cork, Ireland, it's clear that Murphy chose smell over grit. Read more.
Jeff Hudson
Jeff Hudson is the 32-year-old general manager of Rochester, Wash.-based Riverence Brood LLC. He and his team are responsible for the company's high-value broodstock: Riverence's Rainbow trout/Steelhead lines, Cascade Atlantic salmon, and Domsea Coho salmon. Read more.
Twenty-seven-year-old Kevin Demondion manages one of the most successful land-based salmon farms in Switzerland. The general manager for Swiss Alpine Fish AG, located in Lostallo, in the Swiss Alps, Demondion began his journey at the company as a hatchery manager. Even from the beginning, he had his work cut out for him, according to his former manager Thomas Hofmann. Read more.
His father is a veterinarian who has played an important part in the development of the aquaculture industry in Colombia and in Latin America. He grew up visiting various fish farms that his father, Carlos Espejo, would visit to provide his expertise while he played with the fish and jumped in and out of the ponds. This exposure developed an interest in Mateo Espejo Valencia and pushed him to pursue his studies in the U.S. and learn more about fish and fish farming. Read more.
Nathan Cleasby
Very few young professionals get a chance to be involved in cutting edge work that have vital consequence to an industry they work in. In Australia, one hatchery practitioner has been given such an opportunity and is proving he is up to the task. Read more. 
Noelia Rodriguez
Thirty-seven-year-old Noelia Rodriguez knows full well that smolt quality will play a key role on how the growth and success of the fish at sea cages. This realization came to her while working at Scottish Sea Farms' marine farm in Shetland, Scotland, overseeing the delivery, behaviour and performance of Ballan wrasse, including mortality levels and cause of death. Read more.
Yann Ramirez
He developed the hatchery protocols for spawning and larval rearing of striped bass (M. saxatilis) at Pacifico Aquaculture in Baja California, Mexico. Now the senior hatchery manager, 37-year-old Yann Ramirez, thrives in a "very challenging and ever changing" production environment. Read more.