His father is a veterinarian who has played an important part in the development of the aquaculture industry in Colombia and in Latin America. He grew up visiting various fish farms that his father, Carlos Espejo, would visit to provide his expertise while he played with the fish and jumped in and out of the ponds. This exposure developed an interest in Mateo Espejo Valencia and pushed him to pursue his studies in the U.S. and learn more about fish and fish farming.
"I studied in an American university called Lubbock Christian University (in Texas), where there was no interest nor resources or even a place to practice aquaculture," Valencia recalls. "Given that it was located in the middle of the Texan panhandle, I had to study a lot about cows and horses. However, I was quite certain of what I wanted and pushed two or three projects with professors that also wanted to study fish." That project was a recirculating aquaculture system for tilapia.
At 27 years old, Valencia is a professor teaching future aquaculture practitioners at one of the largest post-secondary institutions in Colombia, Universidad Tecnológica de Pereira. He is the youngest professor in the school's veterinary program.
"I have been drawn to aquaculture since the first days that my father brought me to those farms and played around with little fish," says Valencia.
In addition to teaching, Valencia also manages his family's tilapia hatchery and genetics farm, Genipez, producing around 500,000 fingerlings for the domestic and international markets.
"This company, which Mateo manages technically and financially, does constant research in genetic improvement of both Oreochromis niloticus and Oreochromis sp. Mateo is in charge of multiple research operations in microchip evaluations for genetical improvement of both male and females of both strains of Tilapia," writes his student and friend Jhon James Arias Padilla in his nomination.
One of Valencia's ultimate goals is to be instrumental in developing and improving Colombia's aquaculture production and research capabilities and productivity. And his work at the university and his family's farm is giving puts him in the right place to accomplish his goal. Valencia is currently involved in developing what is being touted as "one of the best aquaculture research laboratories in Colombia" with a recirculating aquaculture system, which would have both a hatchery and grow-out for research and production of tilapia. The laboratory will also conduct research in the reproduction of Sabaleta (Brycon Henni), a species native to Colombia, for restocking in the river systems, according to Padilla.
Research and innovation are a huge part of Valencia's professional development, Padilla explains. He has developed a series of breeding protocols for two different strains of tilapia that could be consequential to tilapia producers around the world, he adds. That study is in the process of review and is expected to be published soon.
"He has built a hatchery in the mountains in Colombia that uses an artificial incubation process with modern and rustic products, combining the Colombian creativity and the modernity of global aquaculture," Padilla says.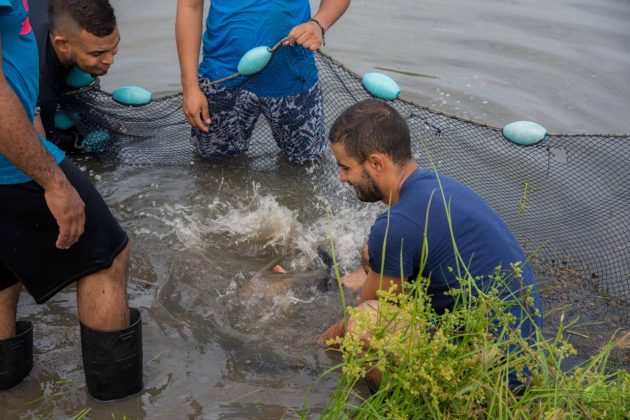 Asked what he thinks is the biggest challenge for young professionals in the aquaculture industry, Valencia responds: Respect.
"Many people would probably argue that it is the lack of opportunities in multiple countries, however, once given the opportunity, not many people respect the young professional's decisions," Valencia explains. "It is difficult to enter a new project or company with older workers and become their boss, and the difficulty of it is borne from the lack of respect."
And that is speaking from experience, says Valencia, who learned along the way that by having confidence in one's abilities and being responsible for one's own actions and decisions, that the respect from his older peers are eventually earned.
For young workers looking to grow their careers in aquaculture, Valencia says be prepared, not just intellectually or academically, but psychologically.
"Our industry is tough and requires the best of the best. We need to study and give ourselves to new projects that can grow and (become) beacons of development to the traditional producers. I would tell them to prepare more in the administrative ways and learn the financial areas of the business. The technical ways are learned in the process, but as I tell my students, 'The administration is an art that is learned, practiced and suffered through years of professional practice.'"
---
Print this page