Features Research
Researchers studying fish health and welfare through the skin
A team of researchers at Nofima (The Norwegian Institute of Food, Fisheries and Aquaculture Research)'s Centre for Closed-Containment Aquaculture (CtrlAQUA) focused on skin to assess the health and welfare of salmon post-smolts.

May 8, 2018 By Ruby Gonzalez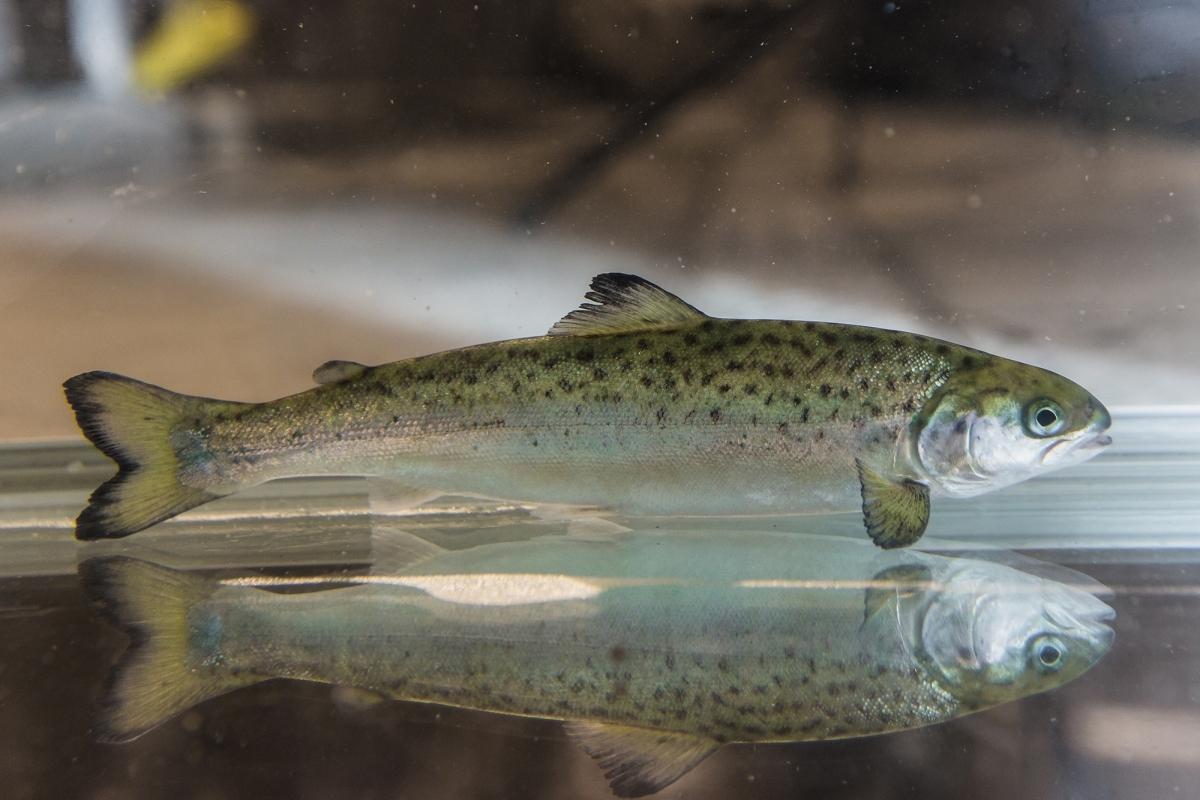 "We have seen skin behave almost like a living sensor and be used actively to see what is happening to fish related to health and welfare," said Lill-Heidi Johansen, head of the Department of Preventive Fish Health, speaking at the Aquaculture Innovation Workshop in Vancouver last fall.
Fish robustness
In The Barrier, a project of the department, researchers worked to understand mechanisms that enhance fish robustness.This includes focus on mucus barrier and skin integrity, gene regulation, immune activity and microbial interactions.
These will then enable them "to develop innovations to secure strong mucosal tissue barriers of post-smolts in closed-containment aquaculture systems.
"Being in direct contact with the water, the fish skin has important roles in defense and protection against pathogens."
One of the initial stages studied the effects of scale loss and skin barrier function, say, if the fish gets a deeper wound.
"This was done first experimentally by removing scales, mucus and the layers below the scales. We looked what happened to the permeability of the skin if these layers were lost," she said.
They saw that the scale, epidermis and mucus are the main barrier for the fish.
"Scale-loss is a sign of impaired skin-barrier function. And loss of this main barrier function is likely to increase susceptibility to pathogens."
Smolt groups
Studies were also done on skin characteristics of salmon post-smolts reared in semi-closed containment systems and open systems.
Three salmon smolt groups in freshwater were distributed to different facilities in saltwater at different times of the year.
Sampling was conducted at one and four months after transfer. "Some overall results showed that there were actually greater differences between the time points than between the systems," she said.
"Using histology, we saw that epidermis thickened and the number of mucus cells increased with time after seawater transfer," she said.
Gene expression analysis showed increased cutaneous secretion and gradually enforced protection against pathogens.
The development of immune competence and structural integrity of post-smolt skin after the transfer to seawater gave them a better understanding of the increased susceptibility to pathogens associated with welfare problems and losses of post-smolts.
It also emphasized the importance of environmental controls.
"Rearing facilities with environmental controls/barriers that restrict fish pathogens, especially immunosuppressed periods, may be key to enhanced animal welfare and overall production performance," she said.
Optimal water velocity
Johansen also discussed another preventive project, Task Cardio, which sought to find the optimal water velocity for post-smolts to promote cardiac health.
One large-scale smolt trial was run from 2016 to 2017 at Marine Harvest.
"We looked at two water speeds: Low was 0.6 body length per second while high was 1.0 body length per second," she said.
Two different time-points were monitored.
While the results showed that the high group had a significant increase in growth and body weight, she said there were issues with the experiment.
"Yes, we see higher water speeds have the potential to increase the growth rate of smolts. But differences in replicates show that finding the optimal speed might be challenging. And, also, higher water speeds may not have the positive effects that we imagine," she said.
"This is just one large-scale study so obviously, more research is needed to confirm the results and optimize the water speed."
Trials ran for post-smolts to identify optimum water velocities prior to sea transfer in RAS and identify related positive effects on growth and welfare, such as growth rate, feed conversion rate and welfare scores.
They also wanted to see the range of training effects on the cardio-somatic index and muscle cellularity and on gill, skin, and blood parameters and the evaluation of stress response on the fish during these trials.
The trials ended in February 2018.
CtrlAQUA, composed of different departments, has a number of ongoing projects with the common goal of establishing the knowledge base necessary for achieving biological and technological innovations in closed systems used in the production chain.
"There is a large amount of collaboration between the departments. There are no walls within and there is cooperation in nearly all the projects to get even further in the research and to be able to solve all the different issues," Johansen said.
---
Print this page