A group of Russian scientists has designed a new oxygen saturation machine, which has recently passed field trials at several lakes in the Altai region. The new equipment is called to help breeding fish in the harsh northern conditions in Russia. 
"In Soviet times, we had [in Altai region] a hatchery breeding valuable species like pike (Esox lucius) and European carp (Cyprinus carpio). It operated six compressors running on diesel fuel and saturating the water with oxygen. We found a more rational solution," said Alexander Pashinin, a leading scientist. 
The old hatchery stopped operating many years ago, and now the Altay lakes only house crucian carp (Carassius carassius) and minnow (Phoxinus phoxinus). 
In winter, Pashinin and his team installed a seven-metre mast with a specially-designed pump and wind turbine at one of the Altai lakes. A pump powered by wind energy raises warm bottom water to the surface, which slowly melts the ice, eroding the holes. 
"Something like an ice reservoir is formed, which provides additional photosynthesis of underwater plants that release oxygen. And the fish breathe easier," Pashinin said, explaining the proposed technology is not only environmental-friendly but  also cost-effective.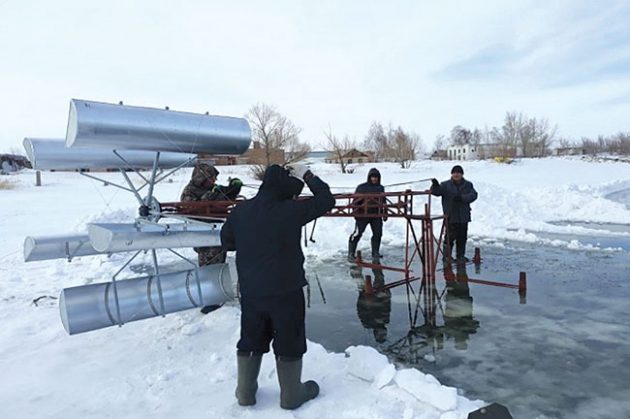 The Soviet approach required diesel fuel. Any disruption in its supply, which was frequent in Siberia in Soviet times, and all fish in the pond were jeopardized. 
Fish farming in naturally impounded bodies is not widespread in Eastern Russia these days as most fish species fail to survive the winter. As lakes remain captured with thick ice for nearly six months in this part of the country, most fish suffocate due to the lack of oxygen. 
Last year, thanks to the project, pike fry managed to survive in an Altai lake for the first time in decades, Pashinin said. 
According to Pashinin, at the end of June  2021, the scientists planned to run a new experiment, installing the equipment at several lakes to release carp fry. If all goes well, the scientists expect the new technology could be of interest to fish farmers, at least in this part of the country. 
---
Print this page