Australian barramundi producer targets global growth
June 19, 2020 By John Mosig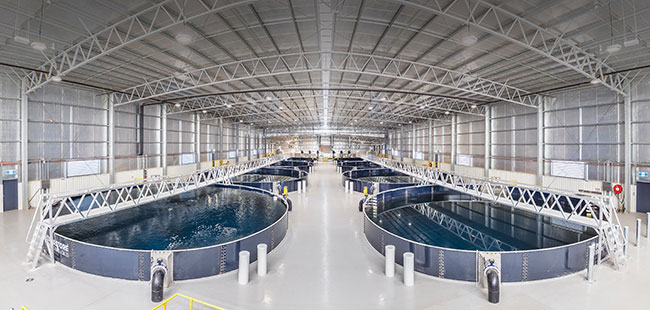 A family aquaculture company started in 2001 as a 50-tonne a year barramundi producer has become a global leader in the sector. Already producing about 2,000 tonnes of Lates calcarifer and 40 million fry per year, MainStream Aquaculture has embarked on an exciting expansion program that will consolidate its position as an industry leader.
Hatchery International caught up with MainStream's managing director, Boris Musa, at the company's Wyndham headquarters, on the outskirts of Melbourne, Victoria in Australia. He was upbeat as to the future of the company and industry.
"We ship barramundi seed stock to 25 countries, as well as being the major supplier to Australian growers. Our table fish products, marketed under the Infinity Blue Spring and Salt Water brands, command an increasing price premium. Despite exceptional volume growth, demand remains strong," Musa says.
With 70 percent of the seafood consumed in Australia imported, mostly from Asia, it would suggest there's much room for the expansion of the local aquaculture industry. Furthermore, a recent collaborative study – "Fish to 2030: Prospects for Fisheries and Aquaculture" – by the World Bank, Food and Agriculture Organisation of the United Nations and International Food Policy Research Institute stated that by the end of the decade, 62 percent of food fish will be farmed.
"Diversification in farm location and production methodology provides broad coverage in the market from plate size to filleting size fish. In particular with smaller fish – that demonstrate a shorter shelf life than the larger fish – close proximity to key markets affords MainStream a massive advantage over more remote farms," Musa says.
Selective breeding
While advances in nutritional understanding, automated systems and fine-tuned husbandry practices have all played their role, one of the key elements of MainStream's success has been its selective breeding program. The company now have almost 1,000 broodstock covering dozens of families from which to work with and are up to seven generations of improved genotype. MainStream's Wyndham hatchery has eight breeding tanks and can produce 70 million commercial-grade fry annually, not to mention the two research and development hatcheries in Queensland.
"To put that in perspective, global production of barramundi is about 100,000 tonnes. If called upon, MainStream could supply the global barramundi industry's stocking needs twice over," Musa explains.
"As an enterprise, we've never devoted more funds to R&D than we're presently committing. We've mapped the barramundi genome and developed multiple arrays from which to identify favourable traits, thus enabling us to accelerate productivity gains."
From its Townville facility, MainStream has worked closely with James Cook University (JCU) for well over a decade and has achieved an average five percent growth improvement annually. "With the genetic potential of the species, we expect to continue at that rate for many years to come."
Growth is just one of the four attribute targets they have set out to improve. "Apart from growth through both increased appetite and enhanced feed conversion efficiency, we've improved fillet yield, disease resistance, and behavior (less aggression)," Musa says. "In all four areas we have made significant gains; gains that translate into economic value."
Current developments
MainStream currently has three major projects underway. The first, with a 2021 completion timeline, will more than double the size of the grow-out section of the Queensland operation – from 46 x 0.75-hectare ponds to almost 100. It will also see the establishment of a state-of-the-art RAS nursery. The nursery will enable the company to maximize the growth of the juvenile fish under 24/7 optimal conditions and, by stocking 200-gram fingerlings in the ponds, reduce mortalities materially. Musa puts a conservative production estimate of 3,000 tons for the expanded farms.
Secondly, the company is carrying out a $1.24-million feasibility study at Morwell in Victoria's Latrobe Valley. The region is an industrial and coal-fired power hub and is planning for an emission-neutral future. MainStream, in partnership with Australian Paper Mills (APM) and the Latrobe Valley Authority (LVA) is developing a plan that will be part of that future.
"We've established that the plan is technically feasible. The most exciting aspect is that the water, which meets our stringent quality requirements, is heated, and available in immense volumes," says Musa. "Our first-stage target is 3,500 tons of fillet-sized fish (4kg), mainly for the Melbourne and Sydney markets."
The LVA has provided $800,000 in funding towards the feasibility study, which is expected to be finalised by mid-2020. The facility would support up to 500 Victorian jobs in the construction phase and around 190 ongoing work placements in the Latrobe Valley.
LVA CEO, Karen Cain, is positive at the project launch. She says the coming together of the two operations – as dissimilar as they may seem at first glance – demonstrates how important the union is, not only for the people of the Gippsland region, but to the economy of the whole state.
Surveys carried out indicate the local community welcomes a food producing and processing industry of this scale as a stepping stone towards a sustainable food producing region, providing employment and encourage further investment in the region.
The third project, a U.S. expansion, is in its infancy. "What we see is not dissimilar to the situation we confront here in Australia: sophisticated customers valuing a quality, sustainably produced and safe source of seafood," Musa explains. "Furthermore, local production from the wild and farmed fisheries is insufficient to service local demand. America's biggest import item after oil and gas is seafood. We're currently selling Australian barramundi into the market to get a better understanding of the pricing architecture and market opportunity."
He explains that MainStream's business model is to site farms in proximity to key markets. "The Arizona location for expansion provides access to 100 million consumers in the surrounding states. We are managing a 500-ton pilot project with the capacity to scale up. There is great infrastructure and an abundance of warm, high-quality saline bore water, which is perfect for barramundi. We're growing fish there and they're doing remarkably well."
MainStream's long-term genetic improvement program and fingerling supply has supported the expansion of the barramundi sector in Australia, North America, the Middle East and South East Asia. "We're proud of the fact that we have underpinned the development of large barramundi industries in some of the countries where we ship fingerlings."
"In other places, we're helping with a transition from shrimp, which are more susceptible to catastrophic crop losses, and from lower value tilapia. Barramundi performs as well as the tilapia on farms but achieves a higher price for finished product for growers."
Boris Musa may be contacted at b.musa@mainaqua.com.au
---
Print this page