News & Views
Government seeks stricter discharge requirements for Norwegian hatcheries
May 4, 2016 By Philip Nickerson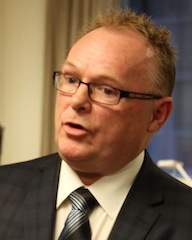 The Norwegian fisheries minister Per Sandberg has criticized the country's hatchery industry
saying it is not acceptable that older hatcheries can pollute freely.
In November, 2015 Sandberg told national news source NRK that older hatcheries are not required to clean their discharge water, while there are stringent cleaning requirements for newer and larger sites.
As a result, the Norwegian hunter and anglers association proposed that emissions permits for older hatcheries should be reconsidered and tightened. Project leader for wild salmon in the association, Alf Arne Lyse, said that water with residual feed and fish faeces should be collected and used as fertilizer or biogas.
Lyse obtained support from the new fisheries minister, Sandberg, who reacted strongly to the fact that there are no treatment regulations for old sites.
"This is bad! It needs to be sorted. Old sites also need to have cleansing," Sandberg told NRK.
 Responding to the criticism, Hans Inge Algrøy, regional head of Seafood Norway in Western Norway, said, "the sites we are talking about here in Hordaland are small hatcheries built a long time ago and are not subject to treatment requirements. They are scattered throughout the county so that emissions from individual hatcheries are very small. It is not where we should start."
Senior Adviser Tom N. Pedersen at the environmental and climate department at the County of Hordaland has previously stated that many of the sites are very small, and that the sea can tolerate the discharges from these
"However, if the state of health of the environment worsens, there will be requirements," Pedersen told NRK.
                                    – Siri Elise Dybdal
---
Print this page