Recirculating aquaculture systems have many advantages that will allow increased farmed fish production in the future. This is especially true for salmon and trout – in locations adjacent to major markets and in a regulatory environment that controls water, wastewater discharge, escapees and land-use.

January 2, 2019 By Steven Summerfelt and Bendik Fyhn Terjesen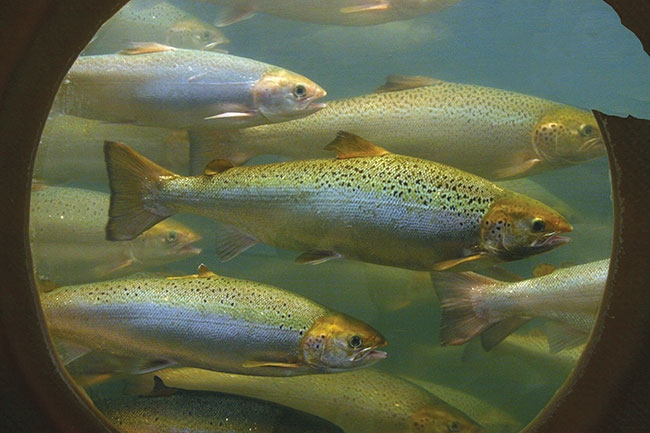 Producing fish adjacent to major markets saves shipping costs, particularly when the only available option is to ship via airfreight from distant locations.
RAS can reduce issues with sea lice and pathogens and improve fish containment to prevent escapees. With proper design and management, RAS can maintain a controlled environment that provides optimum conditions (temperature, oxygen, photoperiod, swimming speed, etc.) for growth, survival, welfare and feed conversion.
However, to meet these goals the sector still needs to see significant advances. Going forward, some of the most important advances will include the following.   
RAS assessment – A "consumer reports" type of rating system for each type of RAS and its system supplier should be provided in the future. This would be great for potential RAS owners and operators, but rather difficult to achieve in practice. Even now, however, it is essential that RAS owners perform due diligence on their system supplier.
Owners and operators should define performance specifications on the quality of the production environment at specific feed loading levels to clearly define their requirements for the system supplier and (hopefully) minimize the chances of technology failure. These performance specifications must also contain clear instructions on, for instance, how many samples should be taken, over how long a time, and when, and what variance will be tolerated.
In addition, biological consultants should be required to provide primary evidence to support any claims governing fish growth, survival, and feed conversion, along with specific qualifications for production environment conditions required to meet such objectives.
Without this due diligence and primary evidence, the project is at much greater risk. In addition, fish, feeds and biofilms are biological in nature and thus can create larger variations in performance than one would expect. Thus, RAS production systems and bioplans must be designed rather conservatively and with greater resilience to accommodate at least some of these variations. Technology innovations. More innovations in RAS must take place to improve production efficiency and reduce operating costs. For example, there are promising new approaches to increase oxygenation efficiency and/or carbon dioxide removal without creating total gas pressure supersaturation problems in the culture tank.
In addition, we fully expect that future improvements in online water quality measurements and SCADA systems will make RAS more reliable and easier to troubleshoot. Industry is also closer to commercially applying machine vision and image analysis systems to help track inventory – both fish numbers and sizes – as well as control feeding and help diagnose fish health and welfare problems. Integration of this online data will give farm managers, owners and investors the ability to better assess performance and operations.
Disinfection and biosecurity – In future, RAS should be designed such that all possible portions can be cleaned and, if necessary, disinfected. Ideally, this should be an automated process.
Innovative solutions do not exist at the moment to solve this problem. Although RAS are built more and more compact, which reduces pipe lengths, this trend also places major treatment processes under floors and makes access for cleaning the various parts difficult for the operators. Therefore, sediments can accumulate, giving potential for later issues with H2S and pathogens.
Clean-outs and access points must be installed at multiple locations. Innovations using remotely controlled robotic cleaners could be a promising approach. This already exists in other industries.
Biosolids management – As RAS production capacity continues to increase, RAS farms must implement better technologies to capture, dewater and reclaim waste bio-solids. Storing bio-solid slurries in lagoons is not a great solution owing to problems with odour, safety and nitrogen loss. We expect more farms to adopt technologies to allow bio-solids to be dewatered to a cake or even a dry powder so that volume can be minimized, nutrients more readily reclaimed, salts pressed out (i.e., from brackish/seawater sludges), and odour issues minimized. In addition, some of these large farms will be applying anaerobic digestion simply to remove over 90 per cent of the sludge volume. This is already starting, but will likely see more application with increasing farm scale.
RAS feeds – Feed formulations must be highly digestible, meet but not exceed the nutritional (nitrogen and phosphorus) requirements of the cultured fish, and combine ingredients and binders that promote fecal pellet stability.
Although feed efficiency is important for all aquaculture operations, in RAS a low-performing feed (or a feed with low digestibility) can create problems via the increased loadings of waste compounds on the unit processes, such as high TSS, TAN and CO2. Feed formulations that create diarrhea-like fecal matter must be avoided because this can substantially increase concentrations of organics, TSS, and possibly geosmin and MIB off-flavours in RAS. It can also increase ozone demand and oxygen requirements in these systems. These are serious challenges for RAS producers, now and in the future. Feed manufacturers, producers and researchers must work together to develop RAS-optimized feeds.
Biosecure germplasm – RAS is not a good choice for culture applications, where fish or eggs must be brought in from sources that are not certified pathogen-free, such as fingerlings produced in outdoor or pond-type systems. Thus, species such as salmonids that can be sourced as specific pathogen-free eggs are well suited for use in RAS. We think that progress to complete the life-cycle for additional species of fish within controlled RAS where pathogens are excluded, particularly during the broodstock and fry culture stages, will eventually lead to success with a broader range of species than are presently available.
Producers must develop more regional broodstock and fry culture systems to eliminate the need to air-freight them across continents. Fry cannot be iodine disinfected upon arrival and can thus potentially transfer diseases and parasites to RAS facilities that are simply not readily able to control such diseases.
Sterile fish – Developing a safe, reliable and relatively inexpensive process to create sterile fish is important to the future of RAS. It could reduce the negative effects of sexual dimorphism and early maturation on fish growth and size variation, fillet quality, feed conversion and fillet yield. Current methods used to produce all-female and triploid salmonids still have challenges – particularly with Atlantic salmon – that could be avoided with a better approach for creating sterile fish. In addition, farming infertile fish is the most effective genetic-containment strategy.
R & D – The RAS industry, particularly Atlantic salmon producers and suppliers, have benefited from several large and relatively long-term research and development efforts.
Research at The Conservation Fund Freshwater Institute and Cornell University in the United States, Nofima and Sintef in Norway, the Universities of British Columbia and New Brunswick in Canada, DTU Aqua in Denmark, Wageningen University in the Netherlands, the University of Kiel and the Fisheries Research Station of Baden-Württemberg in Germany, and Ifremer in France, plus many others, has been critical to help overcome biological, technical and economic challenges with this rapidly evolving technology.
Future research efforts should focus on building long-term private and public partnerships between industry and academia, as highlighted in the CtrlAQUA centre, which is an eight-year project hosted by Nofima and funded by the Research Council of Norway and the partners. The CtrlAQUA centre is developing and refining environmental and husbandry parameters to optimize production of post-smolt Atlantic salmon in closed-containment systems.
The U.S. Department of Agriculture's Agriculture Research Service has strongly supported the development of RAS for salmon and trout production with its nearly three decades of funding to the Freshwater Institute. Such funding support must continue to advance RAS production through 2030 and beyond.
Training – The rapid expansion of RAS globally has already created a serious shortage of trained RAS operators. Experienced operators of RAS are currently in high demand. More training program will be needed, both internal – such as an apprenticeship – and at colleges and vocational schools that partner with industry to provide co-op programs and work-study experiences.
RAS are sophisticated water treatment systems that must create and maintain optimum conditions for fish production and they must perform almost flawlessly, 24/7, to avoid failure.
These systems require trained operators to monitor fish performance, health and welfare, as well as feeding, waste and water chemistry. Other operators must maintain motors, pumps, seals, controls, floats, water levels, and real time sensors with supervisory control and data acquisition systems.
Staff must focus on food safety, product quality, HACCP, harvesting, purging, processing and marketing. For the best chance of success, RAS must be operated with well-trained staff.
Challenges remain when implementing RAS. The devil is clearly in the details, as many RAS producers still face problems. Yet, continued government and industry support for education and training of future generations, as well as improved technologies and practices through research and development, will be critical to future success.
If investor confidence continues, it's possible for global annual production of RAS-produced market-sized salmon and trout to reach 100,000-200,000 tons in the not-too-distant future. Production levels of post-smolt salmon in RAS could be similar.  
---
Steven Summerfelt is the chief science officer at Superior Fresh, LLC, a land-based aquaponics farm in Wisconsin, U.S.A. Contact him at steve@superiorfresh.com.
Bendik Fyhn Terjesen is innovation manager at Cermaq Group, based in Oslo, Norway. Contact him at bendik.fyhn.terjesen@cermaq.com.
---
Print this page